Welcome to THE ACTING STUDIO - NEW YORK
The Acting Studio – New York is an acting conservatory studio of distinction located in the heart of the world-famous New York City theatre district. The studio director, James Price, friend and protégé of the legendary acting instructor Sanford Meisner and artistic director of Chelsea Repertory Company, has been training actors since 1983. The studio offers short-term individual classes in acting and other craft-related disciplines in the performing arts, as well as a full-time, 1-Year Acting For Film & Theatre Conservatory and 6-week Summer Acting Conservatory, and a 2-year part-time Evening Acting Program. The programs and classes are designed to train actors, directors and writers who seek professional careers in the fields of Film, Television and Theatre. With studio training offered in association with Chelsea Repertory Company, and extracurricular acting and directing opportunities available to students and alumni through Chelsea Rep LAB, the success of many of its students has earned the studio recognition for developing award-winning talent. The Acting Studio - New York ranks as one of the most-respected schools for acting in New York City.
Take a look at our acting programs and classes and some of the past productions of our resident theatre company, Chelsea Repertory Company.
---
Check this Out
November 04, 2014
e-MERGING ARTIST FESTIVAL 2014 DEC. 4-13
Chelsea Rep LAB, in association with James Price and The Acting Studio - New York, is proud to present the third annual e-Merging Artists One-Act Play Festival. The e-Merging Artists Festival, which consists of two alternating nights of new plays, gives up-and-coming actors and playwrights the opportunity to showcase their work professionally. The festival's Evening A features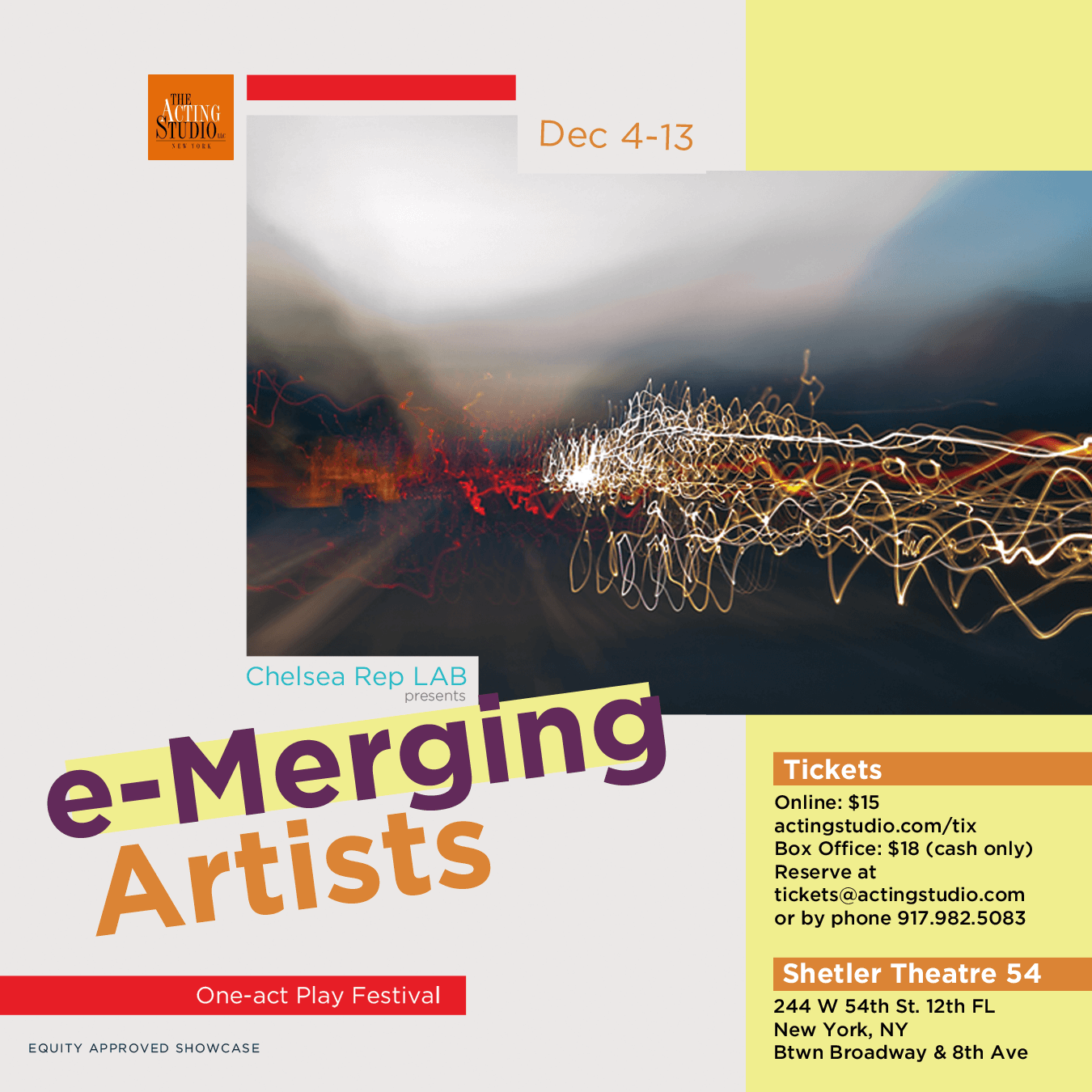 TICKETS ONLINE
From the Director
April 27, 2012
Welcome to the Studio
I wanted to create a place where actors not only could study acting but one where they could also gain invaluable, practical craft experience by actually doing it in performance. Since its inception, the studio has provided students with the finest professional actor training they need to develop themselves into first-rate craftsmen. The Studio has also provided them with a home-base wherein they may gain experience outside the classroom which complements their classroom training and helps them in the transition from the classroom into the acting industry.